Posted by: Jesse on: 01/30/2014 09:29 PM
Got a great idea to make with a 3D printer, but that cheap, soft PLA just isn't cutting it? Check out the Mark One, a new professional desktop 3D printer that can handle anything you throw at it... even carbon fiber.
Just released at the Solidworks World convention, the Mark One is bringing some serious game to the 3D printer market. For just $5,000 (come on, $5k isn't THAT much), you get a 3D printer built from an aluminum unibody construction with large print area that can handle more than just PLA and ABS.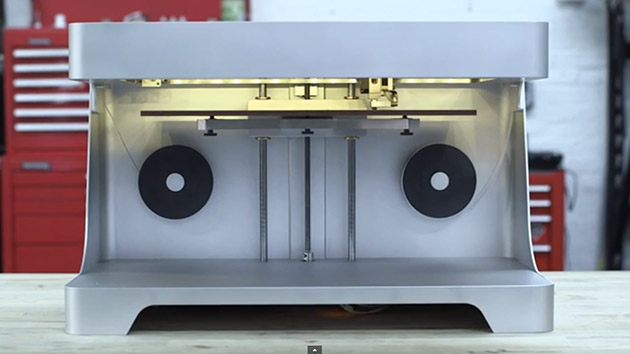 The star of the show if the ability to print carbon fiber fiber - not just filament with some chopped up bits of carbon in there - actual, continuos strands of carbon fiber. Continuos strand construction is the same way Formula 1 cars and space shuttles have their carbon fiber parts built. This means your carbon fiber prints will be 20x stiffer than ABS prints. MarkForged is also making its own propriety continuous strap fiberglass filament if you don't want to spend so much on materials.



" Designed to overcome the strength limitations of other 3D printed materials, the MarkForged Mark One 3D printer is the world's first 3D printer designed to print composite materials. Now you can print parts, tooling, and fixtures with a higher strength-to-weight ratio than 6061-T6 Aluminum."

You can't even pre-order yet, but feel free to head over to markforged.com to be put on the list to be notified when pre-orders start happening. Simply said, for 2x what you pay for a MakerBot, this new 3D printer brings 10x the features.
---
Comments