Posted by: Jesse on: 11/08/2012 12:01 AM
This ingenuous 3D printing enthusiast solved his new iPhone 5's connector problem at home with his 3D printer. Cool!
27CDB6E-AE6D-11cf-96B8-444553540000" codebase="http://download.macromedia.com/pub/shockwave/cabs/flash/swflash.cab#version=9,0,47,0">
"When 3D-printing enthusiast Mike Hellers received his iPhone Elevation Dock, it was rendered useless the next day. After supporting the Kickstarter project, which earned about $1.4 million, the product arrived months later as promised. The only problem — the iPhone 5 was released with a new lightning connector, making the old, 30-pin connector obsolete.
---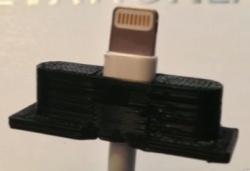 Comments