Posted by: Jim on: 03/04/2013 12:32 AM
Disney released a new movie trailer for the upcoming Wizard of Oz spin-off.
We gave the trailer a 3D conversion for those of you with glasses. Just select the 3d option on the bar. If you don't see the 3d icon first off, hit the quality change button - then it will show up.



Up until now, the best spin off was an original Sci Fi Channel mini-series starring Zooey Deschanel called "The Tin Man" circa 2007. The Tim Man is a very fresh take ste in the same time span of the classic story that we all know and love. Very interesting and very fun, but I don;t want to give to much away so, you can grab it at amazon for less than $10 on Blu-ray. or stream it on Netflix, if you want to know the rest. )

Now that said, Oz: The Great and Powerful has a shot to unseat Tin Man as the top spin off in my book. First, any time that Sam Rami and Bruce Campbell get together - I'm in. I've been a sucker for that team since The Evil dead and there's no point in doubting them now. Secondly, for those who haven't read up, the story line is completely different than the one you are used to. This version focuses on how The Wizard (James Franco) ended up in Oz, instead of Dorthy and Toto. giving way to a whole new cast of characters, themes and story line. Not everything will be changed up, there's still a good witch (Michelle Williams), a Wicked Witch (Mila Kunis), The Lolipop Guild and plenty of flying monkeys -- but the similarities end there. Visually the trailers look unbelievable and in 3D well, definitely looking forward to it is an understatemnt. Just hopping the the story line keeps up with the visuals, if so this is a sure winner.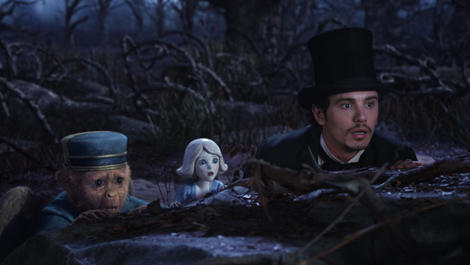 Oz: The Great and Powerful is set to be in theaters March 8th.


---
---
Comments