Posted by: Jim on: 11/19/2013 10:17 PM
Stuart Williams, Ph.D. or Cardiovascular Innovation Institute thinks 3D printed hearts with bio-ficial materials (biological / artificial) without rejection, could happen in the very near future.
Reported by Laura Ungar , The Courier-Journal, ""We think we can do it in 10 years — that we can build, from a patient's own cells, a total 'bioficial' heart," said Williams, executive and scientific director of the Cardiovascular Innovation Institute, a collaboration between the University of Louisville and the Jewish Heritage Fund for Excellence."

This technique is in the very early stages of development. The bioprinting process would would need to cells from the patient and and create a "bioink" of live cells. That would then be printed onto layers of gel which, eventually, would form whatever organ that is desired to be duplicated; heart, vein, etc. This may seem far fetched, but scientist at Cornell have already used a similar process to grow an ear. and made machines from hydrogel and heart muscle. So I'm thinking that Dr. Williams time table may not be too far off.


---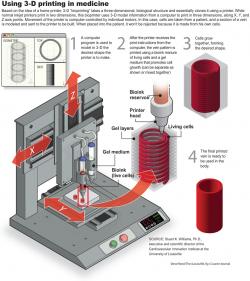 Comments
Related Stories
Doodle3D Easy 3D Printing Software Gets Successful Funding on Kickstarter
Doodle3D was developed by a couple guys in the Netherlands who had a couple 3D printers, but didn't actually know how to draw anything in 3D....
Food is the Next Frontier of 3D Printing @ Dezeen
Janne Kyttanen is a 3D printing expert that is bringing the ultra-cool manufacturing process to a new level: food....
Rethinking objects and form are key to 3D printing @ The Age
The real 3D printing revolution will come when designers start to rethink the shapes of objects. The Age takes a look at how that may happen. ...
NIKE Brings 3D Printing to a Football Cleat Near You
Nike Football just debuted the first-ever 3D printed football cleat that goes where no other shoe has gone before....
Some Cool 3D Printing Ideas
Here's some neat things yo could do if you had a MakerBot. ...
3D Printing Revolution: the Complex Reality @ Make
Make takes a look at today's 3D printiing pro and cons as well as what the future might bring. ...
Kissing Booth Brings Love to 3D Printing Geeks
Can't think of anything to get your sweat heart on Valentine's day? Try Hot-Pop Factory, a 3D Printed Jewelry company that ...
3D Printing Might Make a Moon Base a Reality
You thought a 3D Printed robot was cool? How about a 3D printed moon base, that actually gets printed on the moon....
China Beats USA to 3D Printing a 3 Meter Titanium Wingspar
It looks like China is well into the 3D printing race, as they have just released pictures of a piece of 3D printed titanium to be used in commercial airliners. ...
Funny 3D Printing Meme
This is an epic win! Check out this hilarious meme. ...