Posted by: Beth Snyder on: 04/05/2016 07:21 PM
We've seen any number of 3D printed body parts for both animals and humans, but a team from St Vincent's Hospital, Melbourne, is taking us into the future with the Biopen, which can customize 3D printed cartilage as it's needed.
This is a story that's fairly near to my heart, since a few days ago I sprained my knee (again) which is going to lead to my having surgery on it (again), in hopes of putting off having a total knee replacement for another few years. The problem in my knee is cartilage, and the fact that I keep tearing, abrading, and in general abusing it to the point where the only option doctors have is to shave off the ruined parts. Which fixes the immediate problem, but leaves me with even less cartilage so it ends up easier to tear. It's a neverending cycle, and not one I enjoy.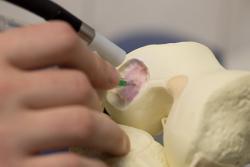 A team from St Vincent's Hospital, Melbourne, has recently developed the Biopen, which uses "ink" made from hydrogel and stem cells. The difference between Biopen and all the other forms of 3D printed tissues is it can be used on the fly, as needed, without requiring the tissues be printed ahead of time. The reason for this is every patient's cartilage is different. Sure, the basic structure and placement is the same, but the actual detail is almost as distinctive as a fingerprint. Thus when doctors are going in to repair cartilage in, say, a knee, they don't know exactly what it looks like until they get there.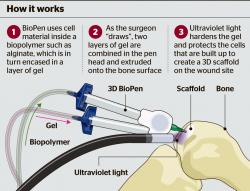 Using Biopen, which is built from medical-grade plastic and titanium, surgeons can essentially draw on a patient's existing cartilage to repair or replace what is damaged. Once the joint is precisely customized, they then use ultraviolet light to harden the biogel into structurally sound tissue.

The original prototype was built several years ago, but has since been refined as technology advanced. Survival rate for bioprinted tissues is now at 97%, which is pretty astronomical. For reference, the five-year survival rate for a liver transplant is about 78%. Currently, Biopen focuses on repairing cartilage, but it could easily be adapted to other types of surgeries where tissues need to be repaired. It's not commercially available at present, and still faces rigorous testing on patients, but this is definitely a wave of the future a great number of us (about 700,000 total knee replacements are performed each year in the US) may end up experiencing firsthand.





Source: Engadget
---
Comments
Related Stories
Custom Printed 3D Orthosis Could Be the Wave of the Future
Prosthesis devices have been around for decades, and the technology improves each year to the point where they are lifelike and can function almost as well as a natural limb. But what about those who ...
RoBo 3D Printer Sets the Bar for the Future of 3D Printing
Theres only two things that stand in the way of everyone having a 3D printer - price, and knowing how to use one. But RoBo 3D has solved both!...
3net President Tom Cosgrove Addresses The Future Of 3D And 4K Broadcasting @ Forbes.com
Where is the state of the industry, 3Net and 3D/4k?...
Is the 84" Sony XBR 4K TV the Future of Television?
Sony released its first 4K resolution TV (which is also 3D) last week, which is a staggering 84" diagonal - but is it really the future of TVs?...
Off Topic: Guy Makes a Working Back To The Future Delorean Hovercraft
Hovercrafts are pretty cool things. Riding a "Back to the Future" hovercraft? Way cooler. ...
MIT's Tensor Display could be the Glasses free TV of the future.
The system uses layered LCD panels to create a deep 3D effect rivaling holograms. ......