Posted by: Jesse on: 12/19/2012 03:06 AM
We always keep an eye on the crowdfunding website Kickstarter for any innovative 3D products. This one is century-old stereograph that are digitally collaged, making hybrid 3D scenes with stories.
Its really an interesting idea. Taking the gool ol' days of 3D and making it something new again. The creator, Ethan Turpin, calls the process Stereocollision.

"To make the Stereocollision project, I remix old 3D photos known as stereographs. I'm launching a new edition called "The Gilded Garden": 12 stereographic cards with letterpressed stories, digitally blending scenes from the vast archives of the California Museum of Photography. In discrete 3D spaces, these cards reveal a time and place where cause and effect occur in strange unison. The adventure and bounty of the 2nd Industrial Revolution collide with forces of Nature - and people do their best to adapt in scenes both surreal and hauntingly familiar."




There is only 70 hours left, and the project has reached its goal of $4,500, but there is still some time to swoop in and grab some great deals on the stereographic cards.

See it on Kickstarter, here: http://www.kickstarter.com/projects/1013067154/the-gilded-garden-stereoscopic-photo-mash-ups
---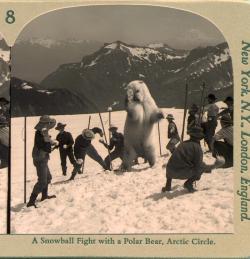 Comments