Posted by: Jesse on: 12/11/2012 02:56 AM
I've always admired the vision of people were able to create a thing of beauty while standing in the wake of calamity. One such inspiring story comes from the second largest city of Christchurch in the island nation of New Zealand.
Last February Christchurch experienced one of it's most devastating earthquakes not only in the number lives it claimed but also in amount of damage done to the city's infrastructure. Since that deadly quake occurred, Chirstchurch has been victim to many other smaller quakes. It was at this point that a group of local student's envisioned a way to make this disturbing new way of life slightly less dark. Together they built a machine that monitors the local earthquakes and paints a blank topographical canvas in different colors according to the size of the seismic waves.

It is called the Quakescape 3D Fabricator. The students, James Boock, Brooke Bowers, Josh Newsome-White, Richie Stewart, George Redmond, Hannah Warren, and Philippa Shipley, came up with the idea a few weeks after the major quake last February. They wanted to "transform 'dark' data into something beautiful and interesting" says Boock. "Making something beautiful from something terrible; there is beauty even in the idea."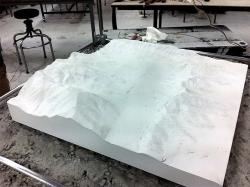 How it works is that the rig is connected to the a monitoring site that is specific to New Zealand and is zeroed in on the CNC lab which is depicted in the topographical landscape which is the canvas. When any sort of seismic activity is detected, the two stepper motors positions the tube of paint where the activity was located and allows the paint to flow. Blues, greens, and grays represent the lower waves, whereas reds and purples are reserved for the more violent waves.

The rig itself is something of a work of art. The simple metal frame, contrasting with the brightly, cheerfully colored paints; the slow dripping paint sliding across the stark white canvas contrasts sharply against the darker, graver reason for art itself.

Perhaps this installation will momentarily calm the fears, and distract form the concern of the residents of Christchurch although no one knows when the next quake will strike. But one thing is certain; if it does, thanks to the Quakescape 3D Fabricator, the next one may be a little brighter, a little more solemnly beautiful.
---
Comments