Posted by: Beth Snyder on: 04/28/2016 05:14 AM
File this under, "Things We Didn't Know We Needed Until We Saw Them". Not only is this 3D design by Gambody incredibly detailed both inside and out, but the StereoLithography (STL) files to make one yourself are available for download!
This model, created by Gambody, was designed from multiple sketches of the Millennium Falcon approved by the Star Wars community, and it is some amazing, isn't it? Measuring 717mm wide, 1000mm deep and 244.46mm tall (about 28 x 40 x 9.5 inches), this 3D printed model is packed full of amazingly intricate detail. You want a ventilation system? It's got it. Engine department? Check. Fully detailed cockpit? But of course! There are nine detail kits in addition to the standard one, and there are even kits so you can print your own AT-AT and AT-ST Walkers.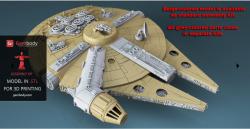 The standard assembly kit comes with the top and bottom hulls of the ship, with the exterior and interior parts available as separate downloads (for an additional cost). Those parts you can see in the picture in beige are what come with the standard kit, while gray parts indicate those additional pieces. The design has been optimized for small 3D printers to make it more accessible to more people, although Gambody does warn it's going to take 2-3 months just to print the parts. Assembly is then up to you, and while it's not necessary, they do recommend you glue the pieces together for greater stability. To give you some indication as to the work that went into this thing, it's made from 236 different 3D printed parts, and took something like 800 hours to put together!

Check out the video for a whole lot more information:




Gambody is asking $74.99 US to download the standard STL files, which can be found at Gambody.com. Each additional set of STL files for further details are $34.99 US each (except the AT-ST walker, which is $29.99 US). You can also find a whole host of pictures with a lot more detail at that same website, as well as a complete list of the STL files available. The files are zipped, and have been tested to ensure error-free printing as well as an end result that looks exactly like what you see in the pictures. All parts were designed to fit a 19 x 19cm (about 7.5 inch) printer bed, so almost any 3D printer should be capable of creating the pieces.

Source: Damn Geeky

Comments
Related Stories
Want to Make Your Drunken Friday Night a Little More Exiting? Try 3D Whiskey.
Nope, not kidding. The Scottish company Caskstrength is now selling whiskey in "the worlds first 3D bottle packaging". ...
Don't want to cook?
here's how to make a 3D paper turkey using Blender. ...
Epikur II I Want To Run 3D Music Video
There is just something about trippy electronic music and 3D video that works great, even if you aren't a trippy electronic kind of person... ...
Want to spend $30,000 on a 3D TV? We found one for you!
This insanely expensive Panasonic 3D TV (model name TH-85VX200U) is a massive 85". Check it out!...