Posted by: Jesse on: 01/16/2014 07:47 PM
Nope, I'm not kidding. 3D printing giant 3D Systems just launched the ChefJet 3D printer at CES 2014, which allows users to make tasty sugar cubes in any shape imaginable.
Instead of melting plastic, the ChefJet 3D "prints" out candies user sugar and flavoring in shapes that would be impossible to make using traditional methods.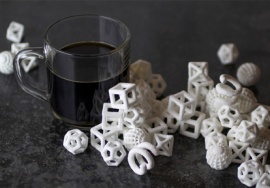 Since this is a legitimate machine and not just some experiment done by MIT, the ChefJet is marketed at professional pastry chefs and candy makers. These snazzy "gourmet" 3D printers will come in two models: the ChefJet monochrome counter-top printer (8x8x6 inches) and the full-color ChefJet Pro (10x14x8 inches).

These should be ready to purchase by mid 2014, rumored to sell for around $5,000 for the Chefjet (monochrome) and $10,000 for the ChefJet Pro. The price isn't actually that bad, when you consider the price of your standard MakerBot, these days (over $2,000).

(This video is pretty boring, but the 3D printed drum set in the background is AWESOME)


Plenty of flavors are available, including chocolate, vanilla, mint and even watermelon. And, from what we hear, they taste pretty dang good!
---
Comments