Welcome to our website
To take full advantage of all features you need to login or register. Registration is completely free and takes only a few seconds.
Posted by: Jim on: 01/02/2013 08:56 PM
Advocates of energy efficient "green" living like the idea of 3D printing for its lack of waste, but they will
really
like this 3D printed lamp for its use of no energy at all!
This is a crazy blend of modern technology and creativity. Dr. Margot Krasojević came up with this idea to use the kinetic energy of a rotating lamp to create power to light it's single LED. Its a bit confusing and technical, but heres is how it works:
The 3D printed nylon polymer lamp is suspended by a spindle. The lamp's design is very specific (its not just beautiful). The weight and form contribute to the angular momentum as it spins along its axis of rotation. It is affected by minor environmental changes, like temperature and air currents, which cause the light to rotate. The light has a motion sensor diode clamped between both suspended 3D printed sections which powers the battery, thus lighting the LED when in motion. Cool, eh?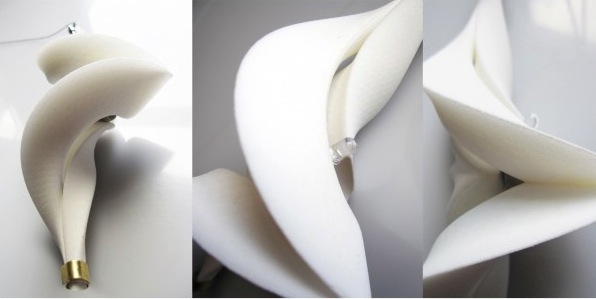 The light has been influenced by the physics behind a spinning ice skater. Because of how its designed, the light speeds up easily since it converts energy into angular momentum easily. The faster it spins, the more power (thus the more light) it produces.
3D-printed-energy-efficiency win!
---
Comments
Elsewhere on the Web
Related Stories