Posted by: Jesse on: 03/05/2013 10:25 PM
Need to make a heart stent thats only a few nanometers thin, and only have a few minutes to do it? No problem, Nanoscribe has got your back.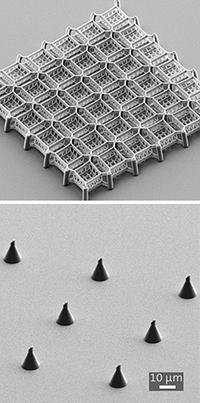 Yep, you read it right. A tabletop 3D laser lithography "Microprinter" has just been announced that can create complicated microstructures 100 times faster than is possible today. "If something took one hour to make, it now takes less than one minute," says Michael Thiel, chief scientific officer at Nanoscribe. Yes, its
that
fast.
While 3D printing headlines of
guitars
,
custom toys
, and even
guns
hit the headlines everyday, the real impact of 3D printing could be where you never see it - in electronic and medical components that are so small you need a scanning electron microscope to see them.
Heart stents, microneedles (for painless shots),
gecko adhesives
, parts for microfluidics chips, and scaffolds for growing cells with features a few hundred nanometers in size are all possible with 3D printed microstructures. And don't forget the electronics industry, which is known for rapidly shrinking just about everything it does (remember the iPod you bought it 2001?). 3D printing would quickly and cheaply yield polymer templates that could be used to make metallic structures.
Nanoscribe plans to start selling its new machine on or past June of this year, 2013. The price is probably in the millions, so don't expect any of your friends to start 3D printing nano-bots anytime soon.
The smallest features that can be created using the
Nanoscribe printer
measure about 30 nanometers says Julia Greer, professor of materials science at the California Institute of Technology.
"This is very challenging to do, and the Nanoscribe tool excels at it," Greer says. "I don't think there is another company out there that is capable of such precision."
---
Comments