Posted by: Jesse on: 11/30/2012 03:15 AM
In the not-so-distant future, you'll be able to print your 3D projects right at your local Staples.
We all know Staples for their office supplies, shipping centers, and print/copy centers. But even though we know this mega-retailer so well, I never saw this one coming. Staples has announced a new service called "Staples Easy 3D", which will allow customers to upload their 3D designs to Staples' website, then pick up the physical printed objects at their local store location (or have them shipped to their home or business, of course).

Its very similar to the photo and document printing service the company already offers, surprise!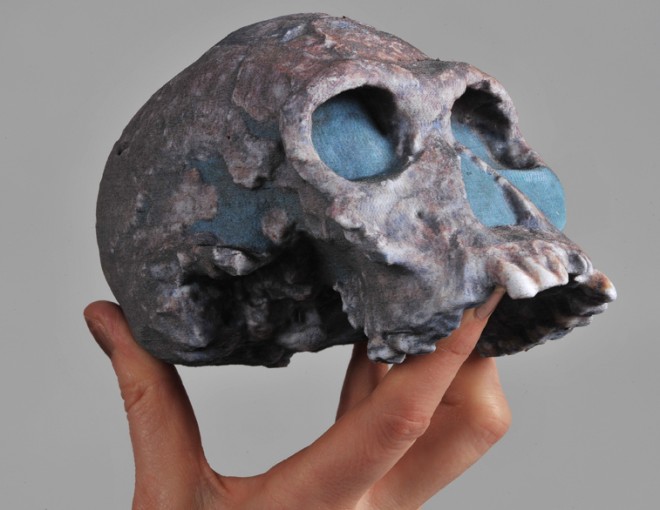 But, there is another surprise. Staples isn't going to be sporting MakerBots or any of the other 3D printers you might expect - they are using one that "makes" paper. Mcor Technologies, the creator of this new 3D printer, is putting its new Iris printer to work.

As if 3D printing isn't innovative enough, the Iris goes a step further. These printers use reams of paper that are cut and printed while being stacked and glued together. This technique allows for a high-resolution layer thickness of 100 microns, similar to that of the MakerBot Replicator 2, but not quite as fine as the crazy 25-micron capability of the Form 1.

The big innovation of this paper process is the ability to add photo-like coloring; something that more common plastic printers can't even get close to yet. The color quality is high, too: 1 million + colors and 5760 x 1440 x 508 dpi. The glued paper is said to have a wood-like hardness (after all, paper is made of wood, and extra ply's mean extra strength), but while the company says it is able to be drilled, tapped or screwed, we will have to see if it really compares to compared to steel, wood, or plastic.



This effort by a serious and established retailer really legitimizes the adoption of this rapidly growing field by the mass market. Similar services currently exist from companies like Shapeways, but this is the first to be made available from a chain retailer that everyone knows.

Staples Easy 3D will launch in the Netherlands and Belgium (Mcor is based in Ireland, so thats probably why Europe is first) in the first quarter of 2013, and will be introduced to other countries soon after. Of course they left us across the pond with a cliff hanger - No word yet on pricing or when it will reach the United States.
---
Comments