Posted by: Beth Snyder on: 03/23/2016 04:32 AM
Bathrooms are really hard to decorate. Other than your choice of towels and maybe a toilet seat cover, what can you really do? Maybe the answer is 3D Printed T-Rex accessories!
When I finally got my first place on my own, I was determined to decorate it with the colours of my dreams. I had very distinct themes picked out for each room, with accompanying linens, furniture, dishes, and other accessories. And then I realized I'd moved into an apartment where I wasn't allowed to change anything permanently, so my options were limited to things that could be hung on the walls and my furniture. That bathroom was horrible: Plain chrome shower head and faucets, plain white tub, sink, and toilet, and plain chrome medicine cabinet with mirror. I did my best with a colourful choice of towels and a rug as well as a matching soap dish and toothbrush holder, but it still lacked something.

I had no idea until now that something was dinosaurs! T-Rexes, to be exact. Because what could liven up a boring old apartment bathroom better than 3D printed T-Rex accessories? Pretty much nothing!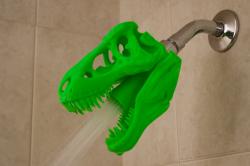 Shower heads are really easy to replace... even I can do it, and what I know about plumbing would have a hard time filling a sticky note unless I wrote big. This particular shower head is 3D printed and uses a standard 1/2-inch thread for easy mounting in pretty much any bathroom. He's available in virtually any colour you could want, and even comes signed by the designer, Jonathan Schwartz. Best part? These only cost $24.99 US each! Try finding a shower head at your local hardware store for that little money. They're made to order by Etsy shop VoodooManufacturing, and are ready to ship anywhere in the US within 1-2 business days after they receive your order.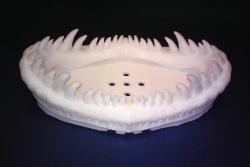 The shower is taken care of, now let's work on the sink area. The easiest thing to replace is your soap dish. This one is 3D printed and cradles your soap in the jaws of a T-Rex. It measures 130mm X 90mm X 40mm / 5inch X 3.5inch X 1.5inch, so your average bar of soap will have no trouble fitting. It's available in white, red, blue, green, yellow, or black, and is made to order by Etsy shop MirskyArtGallery (design by Solstie). Just $9.90 US will get your order underway, to be shipped within 3-5 business days. And no worries if you don't use bar soap! Keep it next to the sink as a jewelry holder or a handy place to keep your razor.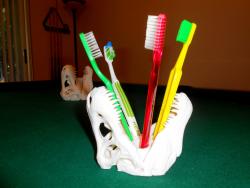 You're also going to need somewhere to put your toothbrush, right? I know people who just leave theirs on the shelf of their medicine cabinet or lying next to the sink, but it always grosses me out a little. I like my toothbrush up and away from things. And since we're on a T-Rex theme, MirskyArtGallery has another treat in store for us! This four-toothbrush holder measures 95mm X 130mm X 130mm / 3 3/4inch X 5inch X 5inch and is also available in white, red, blue, green, yellow, or black. Since the design (again by Solstie) is a little more involved, these run $14.90 US each.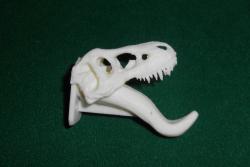 You're going to need at least two of these, because you'll be wanting to hang both your bath towel and your hand towel on one. These are again available through Etsy shop MirskyArtGallery, measure 64mm X 51mm X 38mm / 2.5inch X 2inch X 1.5inch, and are available in the same range of colours as the soap dish and toothbrush holder. I can't decide if that's his bottom jaw or if this T-Rex skull has a rather disturbing tongue, but either way he'll be delighted to hold your towels for you, for just $5.00 US. It won't even be painful to your wallet that you'll need more than one at that price!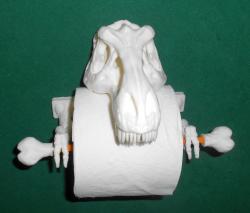 Don't forget your bathroom tissue holder! T-Rex looks a little evil here, doesn't he? Like maybe he doesn't think you should be using that many squares at a time because you're being wasteful. MirskyArtGallery kind of outdoes themselves with this delightful $23.00 US toilet paper holder, don't they? It looks kind of like they use a pencil for a dowel, but the little tiny claw hands are what make this for me. I have a vision of T-Rex trying to use toilet paper with his little tiny arms, and it makes me giggle more than it probably should. Anyway, he's available in the same range of colours and will complement your other T-Rex bathroom accessories quite nicely.

If you're trying to find a unique way to spruce up your boring old bathroom, but are horrified at how much remodeling costs, this is definitely a way to go. You can buy one of each of these items for just under $80.00 US (plus shipping). Doesn't that sound a lot better than paying for a whole new look? I've already got everything on my birthday wish list.
Comments